HSBC GIF Asia High Yield Bond
Why invest in Asia high yield?
Asia high yield bonds now offer competitive yields compared to the US and Europe
Yields of Asia high yield bonds are now trading around 2.5% above its 5-year historical average, indicating its attractive value relative to history
Asia high yield: Attractive yields compared to its historical average and to other markets
Yield to maturity (%)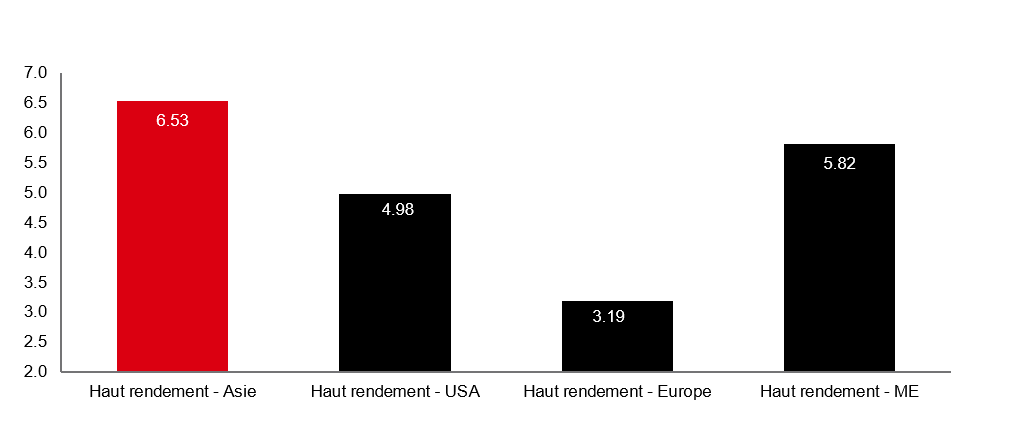 Source: JP Morgan, BAML as of 31 March 2020
Investment involves risks. The yield is for reference only and is not guaranteed. A positive yield does not imply a return.
Fundamentals for Asian high yield corporates have been on an improving trend, indicating that a lot of Asian high yield issuers are more equipped to weather uncertainties in the investment environment
Net debt / EBITDA is trending down
Net debt / EBITDA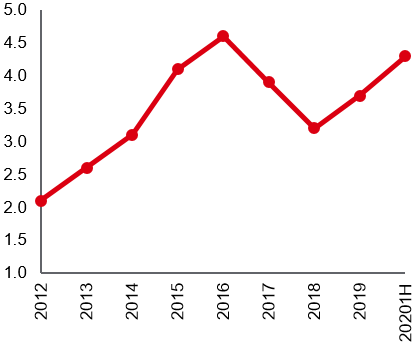 Adequate liquidity with cash / total debt rising
Cash / total debt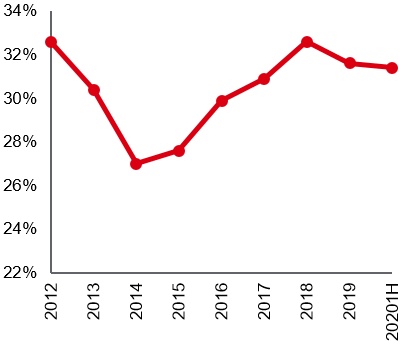 Source : Bloomberg and J.P.Morgan. Estimates; as of December 2019
Asian high yield bonds exhibit low correlation to other asset classes
Asian high yield has the potential to improve returns and even lower the volatility of a global high yield bond portfolio, offering good diversification
Correlation of spreads
Asia high yield
EM investment grade
EM high yield
US investment grade
US high yield
Euro investment grade
Euro high yield
Asia high yield
1.00
EM investment grade
0.17
1.00
EM high yield
0.52
0.82
1.00
US investment grade
0.45
0.59
0.75
1.00
US high yield
0.41
0.72
0.81
0.74
1.00
Euro investment grade
0.44
0.50
0.64
0.73
0.63
1.00
Euro high yield
0.48
0.52
0.70
0.72
0.74
0.83
1.00

Source: Bloomberg, JP Morgan, BAML, HSBC Asset Management; Correlation calculated from spreads, for the 5-year period as of 2 April 2020
Why consider the Fund?




Strong credit selection process

Comprehensive bottom up credit process designed to systematically avoid defaults or credit deterioration


Best Asian Bond House

Managed by award winning Asian fixed income team

One of the largest and most experienced Asian fixed income teams

Flexible, diversified approach

The fund has the flexibility to invest about 30% in investment grade bonds, making our approach more conservative than peers

Equipped to navigate volatile markets

In February 2020, the fund manager decreased the fund's exposure to riskier names ahead of the volatility, while increasing allocation to the most liquid parts of the market

Solid track record

Managed through a disciplined and repeatable investment process with an active, fundamental approach

Stands out from peers

Ranked as one of the top performing funds in its category
Resources
The Fund invests mainly in Asian high yield bonds.
The Fund is subject to the risk of investing in emerging markets.
Debt instruments with loss-absorption features, non-investment grade bonds and unrated bonds are subject to additional risks and volatility.
Because the Fund's base currency, investments and classes may be denominated in different currencies, investors may be affected adversely by exchange controls and exchange rate fluctuations. There is no guarantee that the currency hedging strategy applied to the relevant classes will achieve its desired result.
The Fund may pay dividends out of capital or gross of expenses. Dividend is not guaranteed and may result in capital erosion and reduction in net asset value.
The Fund may invest in financial derivative instruments for investment purpose which may lead to higher volatility to its net asset value.
The Fund's investments may involve substantial credit, currency, volatility, liquidity, interest rate, tax and political risks. Investors may suffer substantial loss of their investments in the Fund.
Unit trusts are NOT equivalent to time deposits. Investors should not invest in the Fund solely based on the information provided in this document and should read the offering document of the Fund for details.